Additional Launch Programs for Incoming Adelphi Students
Immerse yourself in your interests while experiencing summer at Adelphi.
Tuition for these residential launch programs is $3,400. The tuition also includes all off-campus trips and daily extracurricular activities.
Law and Society
Sunday, July 9–Saturday, July 22, 2017, Residential-Only Program
Interested in the law and how our legal system works? Want to try arguing a case in a mini trial? This course introduces you to the basics of law and society, including various definitions of law, the process of lawmaking, and the organization and role of courts. You'll work with other students to understand Constitutional, criminal and tort law approaches to social issues. Learn practical skills like how to protect your rights as a consumer and visit a courtroom to observe court proceedings.
Psychology and Pop Culture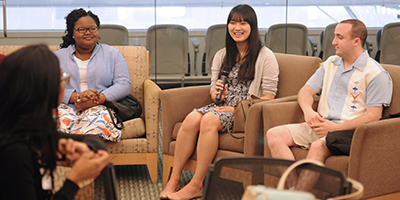 Sunday, July 9–Saturday, July 22, 2017, Residential-Only Program
Looking to explore the world of psychology? Are you a fan of popular culture and social media? During this course, you'll analyze characters from popular fiction and individuals in media and music using basic principles of psychology. Discover how social media outlets and celebrity case studies can provide an understanding of how societal pressures impact human emotions. Learn psychological theories of personality that will be used to develop a deeper understanding of the artists and their work. 
---
Register for a Summer Launch Program