Graduate and Adult Student Handbook
Make the most of your new beginning as an Adelphi student.
As a new graduate or adult student, please know that the University is committed to assisting your transition to this exciting education experience. This handbook was developed with the graduate and adult student in mind. We hope this resource will help guide you through your studies at Adelphi University.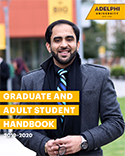 In addition to the Graduate and Adult Student Handbook, many graduate programs have specific handbooks or resources to guide you. Please contact your graduate program for resources available to you.
For University College students, there are also specific guidelines for your adult experience in this program. To assist adult students seeking to begin or complete their undergraduate degrees, University College offers personalized academic advising, an adult-friendly admissions process and credit for work and experience.
» Download the PDF of the Graduate and Adult Student Handbook (PDF)